Start watching for:
Garden Notes
9/3/2012 – Zuchini and Pumpkins are doing fine. Beans are 3/4 up their bean poles. Some tomatoes are still coming out. Lots of Jalapeno's as well as a few cayenne and bell peppers are coming.
9/21/2012 – a Moonflower finally blossomed.
9/29/2012 – Both the large and cherry tomatoes still growing and producing. Pumpkin plants had a few blossoms. The Bok Choy is thriving and ready for some leaves to be harvested. Beans starting to blossom.
Nature Journal
9/1/2012 – Goldfinches seen at feeder and picking seeds out of the red flowers (look up name). Have resumed regular refilling of the bird feeder, and seen Brown Thrashers, Nuthatch, Cardinals, Wrens, Catbirds, Chickadees, Titmice so far.
9/2/2012 – A Hummingbird Moth (also called Clearwing) visited our butterfly bush. Has visited several times lately.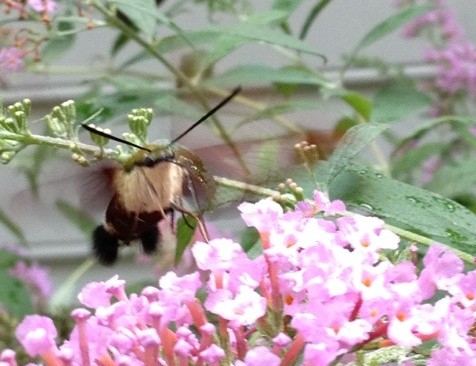 9/3/2012 – Went fishing at University Lake with little Ralph and another Dad and son. We tried out our new Hawkeye Fishfinder while continuing our experimentation with the "Banjo Minnow" lures. Armed with this shock and awe mix of technology and manpower we collectively caught one fish. A tackle-busting lunker about five inches long. Then an afternoon thundershower chased us off the lake. But we and our sons had a great rip roarin' time. Thanks in no small part to the foresight of our sons who had made us load up on Bugle chips and Tummie Yummie drinks over at Farrel's Lakeside bait shop. Saw the gray lizard again, toads and herons.
9/6/2012 – Saw two rabbits in the yard today back near the pumpkins. They were challenging each other. One would come toward the other as if he were going to bite him. The other would stiffen his front legs and then raise up and push the other rabbits head down with his two front paws. Then he would run away with the other rabbit chasing him.
9/30/2012. Took a walk around Mason Farm. Saw Red Headed Woodpecker, a Flycatcher or Pewee of some sort, A Yellow rumped warbler, and a mystery bird, one other hiker thought it was a dickissel which he says come through here on migration sometimes.
Other Notes
September 2 – Went to see the phenomenal music and story of Paperhand Puppet Intervention's "City of Frogs"
September 22-23 – Went camping at Camp Clearwater. Sophia caught a huge catfish.
September 30 – Missed the 15th Annual Carborro Music Festival.